Time for a quick update what's going on in my own running world :)
Yesterday, a friend and I decided to do a quick run in Center City Charlotte since we both work uptown, the daylight is getting longer, and we have both just been stressed out with work.
Solution: Hit the pavement!
So we were trotting along clicking away at our 3.5 mi run/walk (dang those stop lights/traffic) and trying not to inhale nicotine from all the street smokers *roll eyes* and it dawns on us why we were seeing everyone dressed in green with hats and boas and such thangs LOL
It was St. Patty's day...duh!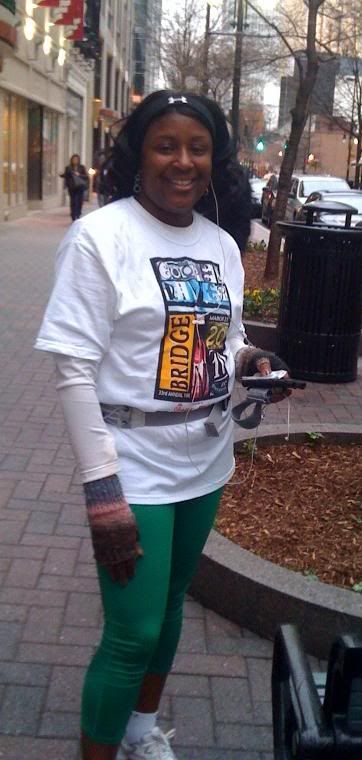 And ironically I was wearing my bright green running capris (with of course my Cooper River Bridge T-shirt on!). The clothes matching up with the date was so unintentional! :o)
Right before my run I chowed done on one of these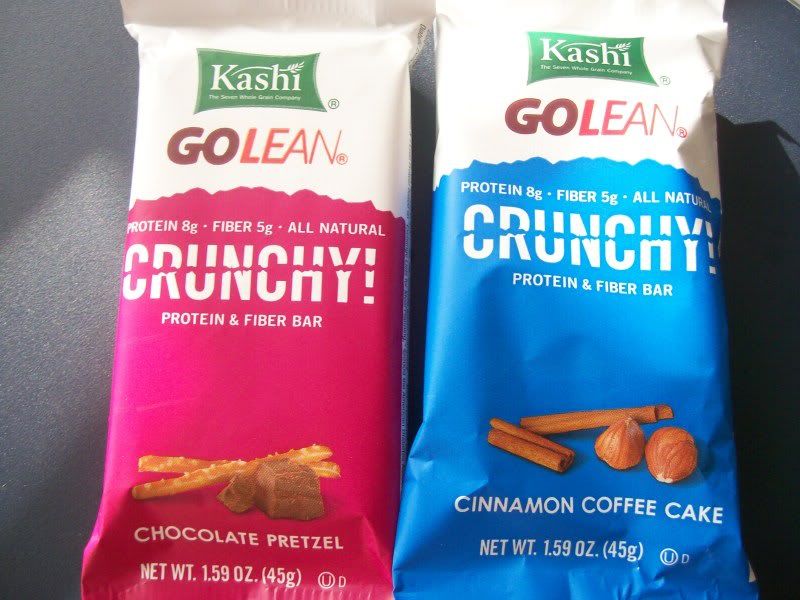 Just discovered them so they are new to
me
. I tried the chocolate pretzel bar (since I love white fudge pretzels IRL) and really enjoyed it. We will see how the other one tastes but this may be in my regular rotation to munch on moreso after a run (unless I am running in the evenings I will do them pre-run).
What are your favorite pre/post bar??
So Cooper River Bridge Run 10K (CRBR) is approaching fast (I am sooooooo excited!!) and trying to get as much running time in to build up my endurance so the 6.1 miles won't take me out LOL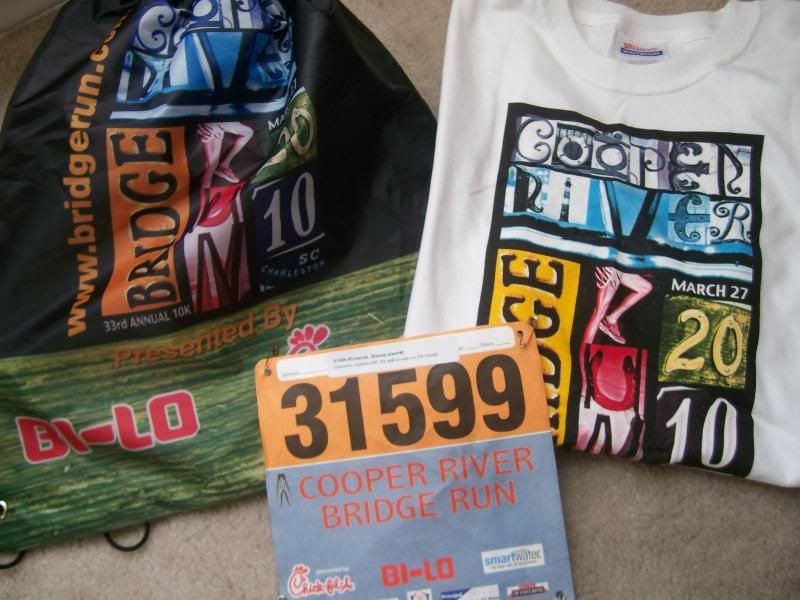 Received my packet in the mail and was happy to go thru it, and you saw I wore my t-shirt in advance :) The magic # y'all is 31599!! Yay!
I already know that I will be doing a walk/run during this race, because I am not yet running 6 miles in my every day runs. My expectations have adjusted quite a bit from when I first signed up = no pressure!! So I am looking to just have a good time and run as much as possible!
I still have a mini-
CRBR goal
and that is to complete it within 1.30 hours.
I have also set up a couple
personal running goals
too:
Short-term:
Run easy 5-6 miles by June 1st
Long-term:
Run 13.1 miles by December 1st
If I stay at the same training schedule now (about 3-4 days a week of running) and continue to push myself wtih comfortable challenges I think I can accomplish those goals!