So thought I would jot down a few thoughts from my last race (for my own journal purposes really) and let you know about one that I have coming up tomorrow!!
Post-race stuff:
My running leading up to the week of the CRBR race I did 4.5 miles run/walk the Saturday before and then 4 miles on Monday hoping to have my last easy run on Wednesday. But I was too exhausted that day and ended up doing 3.4 miles on the treadmill that Thursday. I really wanted a 2 day rest in between before race day.
I haven't had the chance yet to mention how I do not care for bananas at.all....well since I have become a runner it is an option
only
out of necessity :)
How about directly after the CRBR 10K I devoured not just one banana but TWO! I was famished and apparently really needed it LOL
Theme to note for that weekend was: Everything goes according to plan. (
truly!
)
When we got back to the hotel showered up and had a great lunch how about I could NOT take a nap right away (like I thought I would) so I just laid in bed to rest up before our early dinner. However, by that evening I slept slept slept until the next morning.
Surprisingly, I was not sore or anything at all...not even a couple of days later either YAYAY! After my 1st race (Cupid Cup) I had hip joint pain and soreness but nada this time!! My V8 prep and fish oil pills may have helped that from happening..not sure.
I really didn't feel back to "normal" post-race until about that Wednesday and had my 1st decent run that Saturday with PRBC. I truly didn't expect to take that long to recoup (BUT I will say I still ended up not getting enough rest afterwards with more late nights and going out..sish). I will do so much better about resting up and taking it easy post-races. I will say an epsom salt and lavender bath was luuuuurvely post-race!!
One more foolish thing I forgot to mention I did post-race. That Monday after I still kept to my schedule and ran with my 4miler group.....BIG mistake!! I was still very tired from the 6.2 and it was just way too much too soon. What I should have done was a nice easy "Post Race" run. I know better for next time trust :)
Speaking of next time!

Next Race stuff:
Soooo...I think I may be a little out of my mind signing up for another 10K two weeks apart from my last one!
BUT I really wanted to do a race around my birthday (it was on April 8th! Yayay) AND you actually get a medal for doing this 10K (this rarely happens for 10Ks). So because I already had a few friends I knew that were going to run it I went for it!!
I will be doing this race on tomorrow: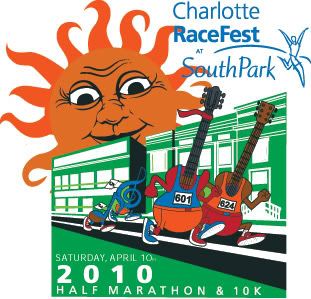 I did a course preview via my car a couple of days after I signed up and I have been down these streets many of times but never paid attention to them from a "running" point of view....lets just say this route is HILLY and windy both on the front AND tail end, with a lovely BIG A hill at mile marker 5.0 ish!!! Gish! (course map here)

Therefore, I decided my runs before the race would be the actual course so my body could get used to it........well Charlotte decided to have a HEAT wave that week filled with POLLEN!
On Monday I did the front 2miles out and 2 miles back for a total of 4 miles and huffed and puffed the entire time!! The last mile I actually had to walk b/c BOTH feet became numb. I think it was mainly because I was overheated. This was really a crappy run for me and I felt bummed about it. That was my 1st time I needed to wear shorts/sunscreen...y'all it was sunny in the high 80s here!! Guess that was good practice "if" I get in the Peachtree Road Race for 4th of July....we shall see.
I decided to go back on Wednesday (insane) and the weather was much cooler out. This time I did the last 2 miles out and then reversed it for a total of 4 miles as well. This run was a tad bit better but I still struggled.
So essentially I did the hardest parts of the course on both run days. My calves ached A LOT on the first day and my legs and knees were sore. On the second run day my hamstring and hip joints were sore...this course is rough y'all.
I am over here trying to get my mind right about this race!!! Keep happy & positive thoughts for me. Will be back next week with a race report once I recoup...whenever that will be :)