Well I must say my first "good" pair of running shoes really did right by me.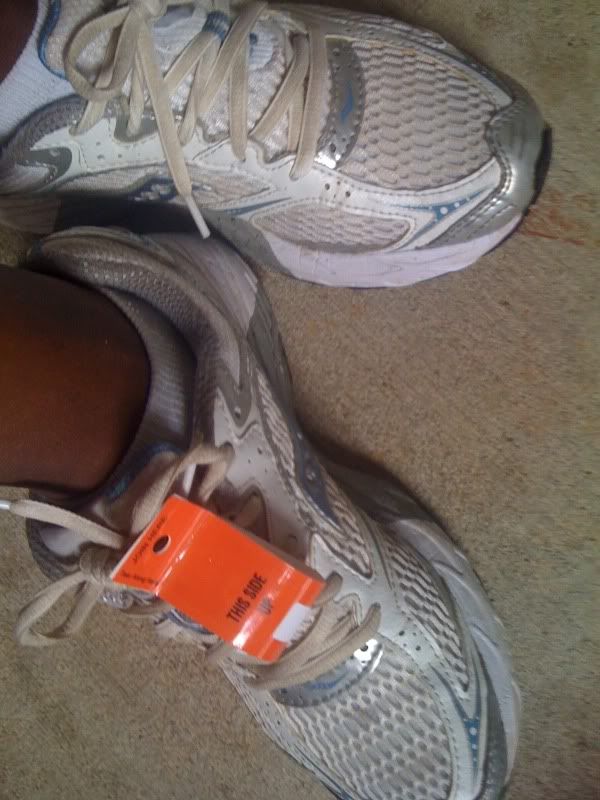 These puppies took me from the beginning of this year until my last race at the end of May.
I probably could have squeeked out some more miles out of them but didn't want to push it.

So RIP my lovelies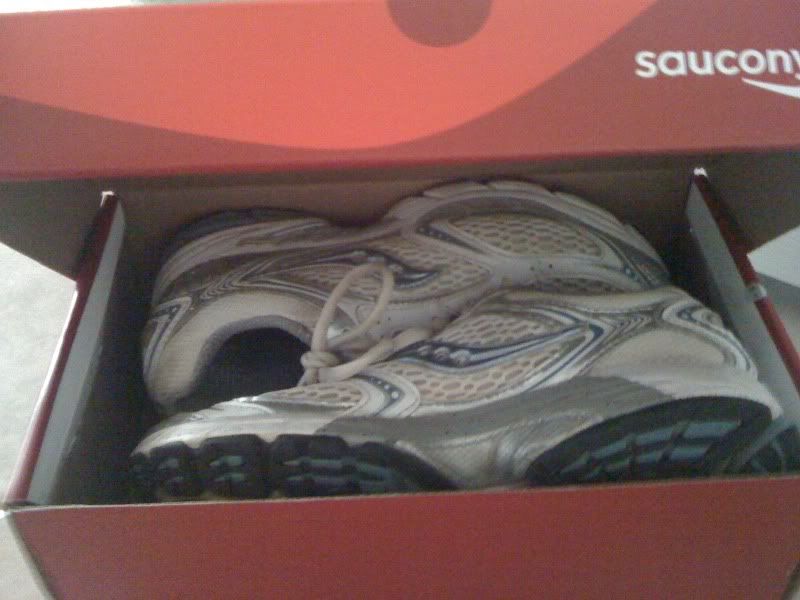 as I know there will be many more to come :)
D.I.C.K'S Sporting Goods has this awesome replacement plan where you purchase a pair of shoes and once you wear them out can bring them back to turn in for store credit equivalent of what you originally purchased them!

So my brand spanking new sneaks were only $35 buck-a-roos!!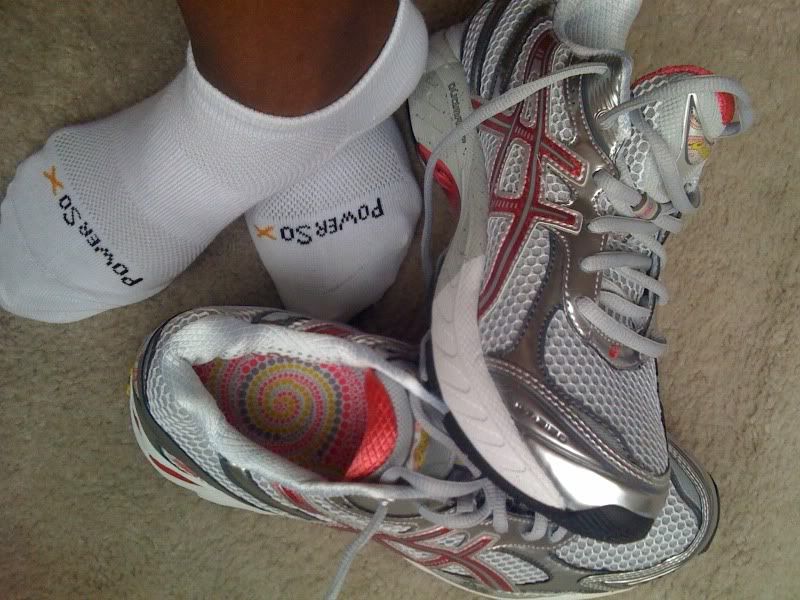 (Normal value $99 - only sale for $95 and had a $60 credit from old pair - Woot!!)

Since I was feeling friksy I threw in a pack of running socks too which I have now tested them over the past month and LUV them!

As you can see the Asics 2150s come in a "red-ish" color and I was over the moon about that!!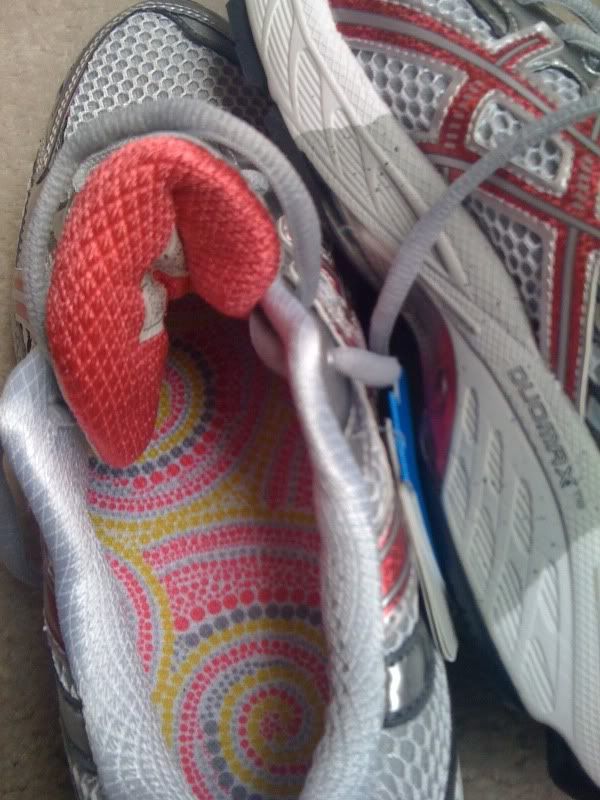 And the cute interior design doesn't hurt the eyes either. They make me smile on the inside :)

As you may have noticed I am a "stability" shoe runner as I overpronate. Here is a link to an article on how to pick the right running shoes for YOU and avoid common shoe mistakes.

I highly recommend that you get fitted for running shoes BEFORE you begin running as that is the #1 investment that you should absolutely make first and IT IS worth it.
Once you know what kind of shoe you need to be in then you can shop around for bargains! Typically prices for running shoes range from $60-$120 depending what sales you catch (some models are phased out and that is when you should grab them!), shop online or box stores, etc.


Just be sure it is the RIGHT shoe for YOU and not settle (like I did at first) for cheap because you end up potentially injuring yourself (like I almost did).
You can still get a bargain and not compromise your phyiscal health while running!

New Happenings:
So last night I visited a local running store (Run for Your Life -Dilworth) that was having a "L.adies N.ight" with a spread from Great Harvest Bread Co. and Redwood Creek Wine along a personal wellness/massage person there too (he really worked out the soreness in my hips from my 8 day running hiatus while I moved), along with a raffle of prizes and goody bags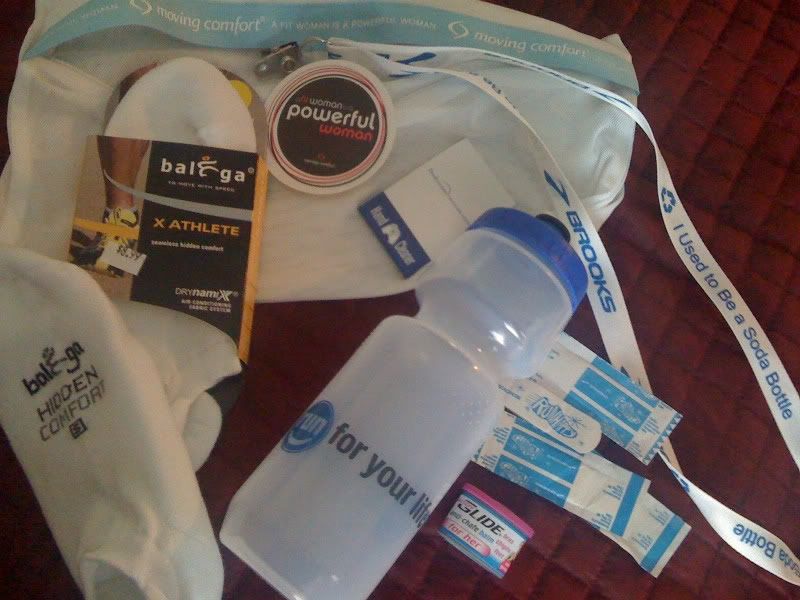 Check out my goodies!! :) I never tried Glide before and now they have it "for her' and hope I don't have to use those cute band-aids ever!

But how about I scored those nice running socks while there as they threw them in with my FREE sneakers!!!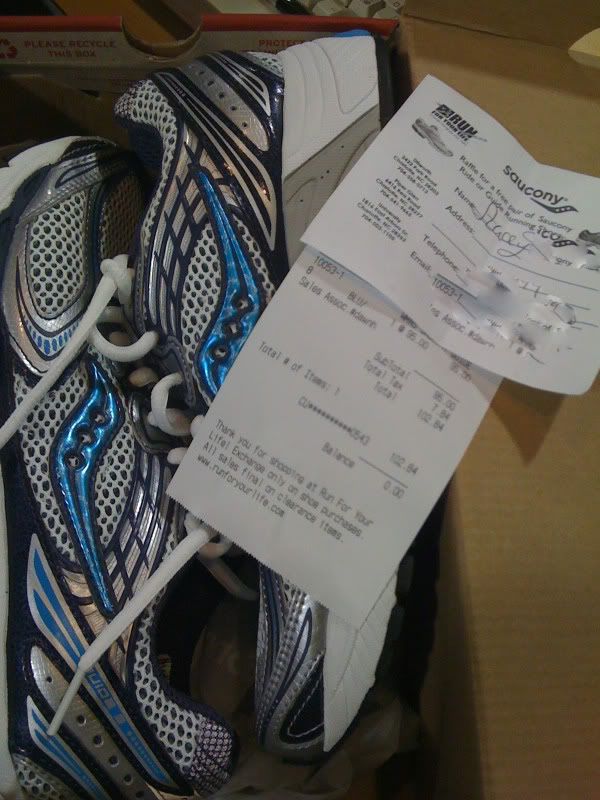 I won the raffle prize for a free pair of Saucony Guides (the ones I laid to rest earlier in this post!) YAY!!!!! These are the Guide 3 and when I bought the other pair those were the first version talk about moving on up and having a back up pair!! WOOT WOOT!

I was absolutely THRILLED!! Free hip massage, free goody bag, free munchies, and FREE SNEAKS!! Truly made my evening Haha :) And I got to meet some kewl new running people in my new community too. All the way around win! So blessed indeed!