I've had this post in "draft" mode since mid-April!
And that is for a couple of reasons:
1. I wasn't sure if I got "in" yet
2. And even if I did wasn't sure if I was going to be "able" to go
But looks like I am going to be doing the nation's (used to be the world's) largest 10K....
Peachtree Road Race
(PRR) in ATL!!
This race will have 55,000 participants (Cooper River Bridge only had 35,000) running down the infamous Peachtree Street on a hot balmy 4th of July!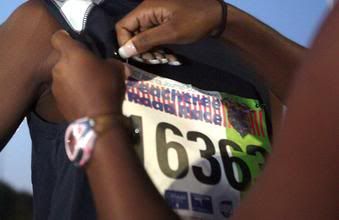 I registered way back in March by paper application because all 44,000 online slots were sold out within 4 hours!! The remaining slots were done by lottery only which you just have to "wait" and hope you get in.
Well my girlfriend and I sat on pins & needles for about a month before we knew anything and then saw that they cashed our checks! (to PRR no news is good news LOL).
Since then it has been quiet with periodic e-newsletters or "Peachbytes" updates, as well as reading PRR's blog/website that kept my excitement going.
But recently we were just informed of our race number that determines what "wave" you will be in (I had to submit my race times - thank goodness I had some - so I wouldn't be placed waaaaay in the back). Thank goodness I am in Wave "F"...unfortunately my friend didn't do the same and she is in "X"....pooh. Y'all this is serious business LOL
And then as a participant I received a 40 page Peachtree Road Race magazine full of info, history, and stories...it is going to be FUN! Bands at every mile, sprinklers, holy water being thrown on you (haha) and I hear this race for sure is going to have a Krispy Kreme stand (we shall see)
There is one problem....I don't have my race packet yet...(I am trying not to have a heart attack). PRR messed up and didn't send a small groups' info until today! They were supposed to go out last week...well it wouldn't be a big problem but I have moved!! And now my mail is being forward "if" they forward that packet and "if" I get it in time before I leave to go out of town.....*exhale*
relax.relate.release
In the meantime, my training has been alright, as I was on a short hiatus since I was doing so much with my move; and just picked it back up last week clocking only about 15 miles.
Yesterday I ran 6 miles during my predicted wave race time (and it was hot as hades!!!) It was not a good run as I walked the last 2 miles so you can't really say I ran much LOL
I don't feel as bad since this runner doesn't train and runs with a cigar during every PRR!
However, still trying to keep my mind focused and positive ju ju going...(my number better get here!) Lets just hope that the picture above will be a great visual to "will" it here on time :) :)
My GOALS for PRR:
~ My dream ~ 60:00
~My reality ~ Beat my last 10K 1:08:23...even by a second ;op


Welp only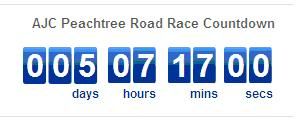 Until I run my 3rd 10K to date, and then the fireworks will sound off for the race!!