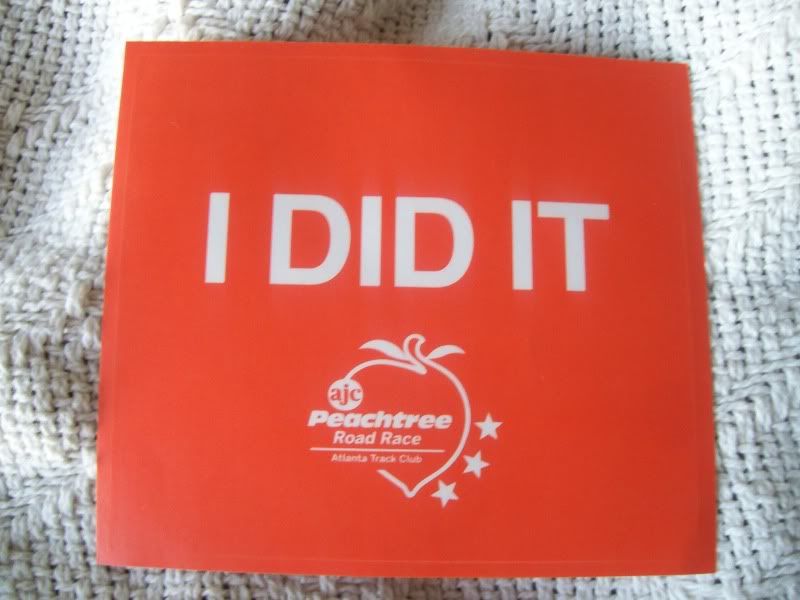 Peachtree

Road Race
Baby!! :)
Let me just say up front that it was FUN (with all caps!) and I highly recommend
every
runner to put this on their race log! It was VERY well organized from registration (alpha) to post race party (omega).
Luckily, this year was the coolest temperature wise since 1996....(God did hear my prayers!!)
Starting at 65 degrees at kick-off and climbing up to 80 degrees. Thank goodness because it was
HAWT
the week before....whew!
I finally went to my first race expo (I really wasn't interested in doing Cooper River Bridge for some reason), and my girlfriend who was doing the race with me went on down there the day before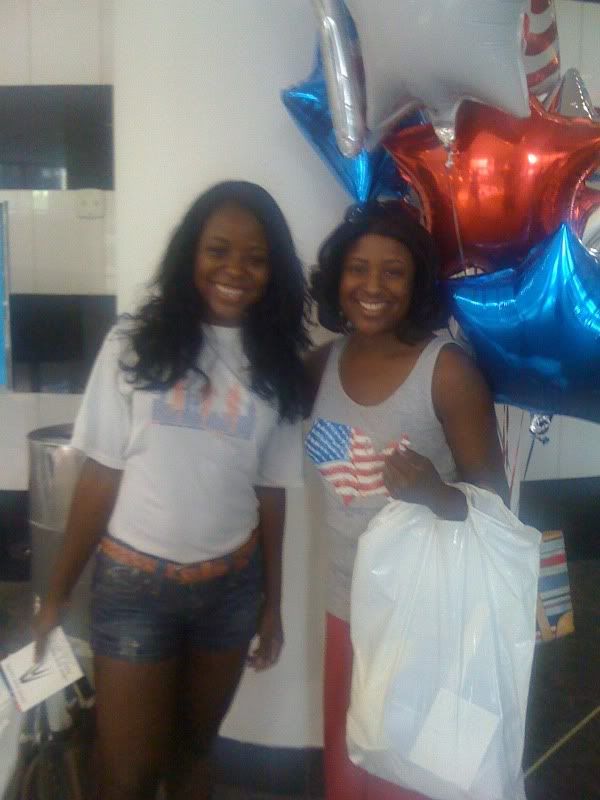 And we got lots of freebies!
The next morning we made sure we would be out the door by 6:00AM in
Buckhead
to "walk" a short journey of about 2miles to the MARTA (sigh...I was evil about this walk on the way back from running 6.2mi!). I am sure I did at least a total of 10miles this day....
Sidenote

:
That AM I did pop two ibuprofen to mitigate any upcoming sore muscles, and took two more after, along with two more later that evening...so I was pretty much numb race day :) But
BAAABY
the very next day (that Tues) I felt it ALL! My thighs were s.o.r.e. beyond measure and an
epsom
salt bath helped some followed by a 3mi recovery run (sure wish I had one of those massage sticks or foam rolls now!).
~
Antyway
~
We reached the MARTA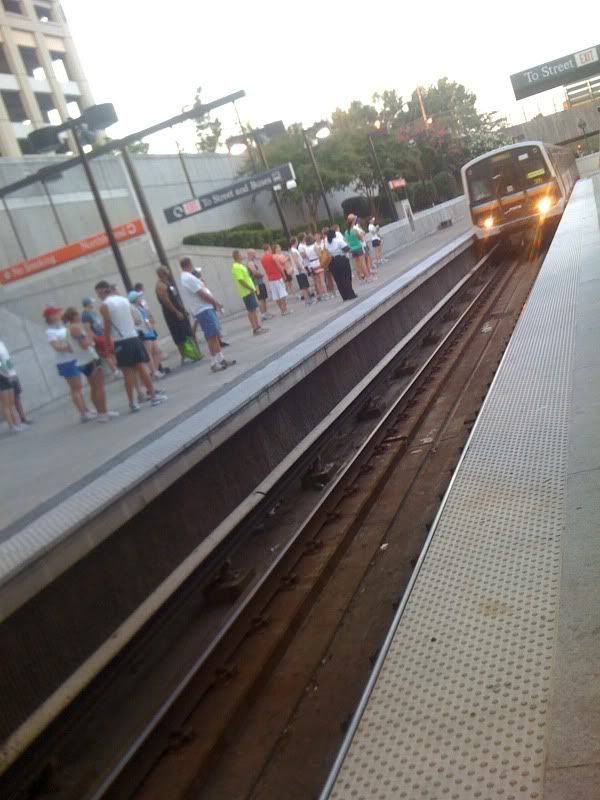 And as promised hundreds of people filled the station!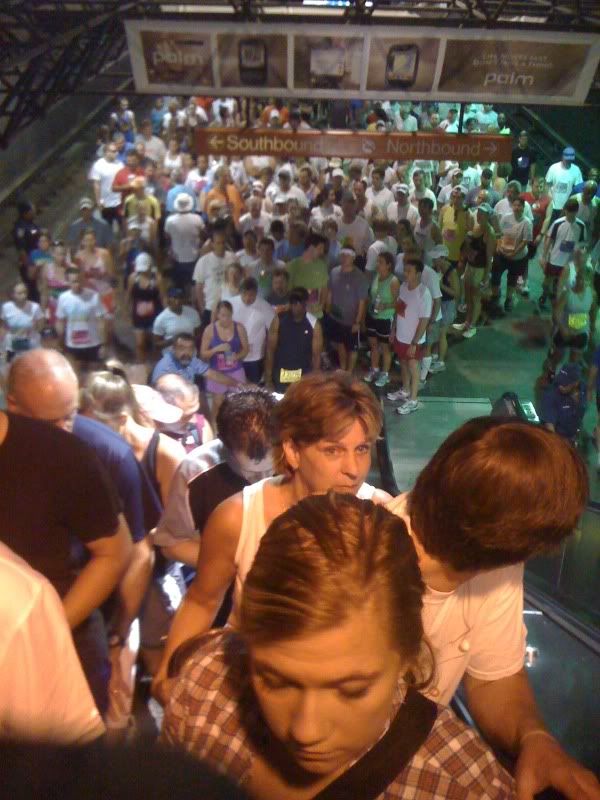 You could truly feel the vibe! And I was not a bit nervous at all....pfft this is my 5th race come on! ;op LOL

Of course there were a few sights to be seen lots of red white and blue costumes and such...unfortunately I did not take lots of pics of the crowd (in fact excuse all of the iPhone quality shoots) but did get this one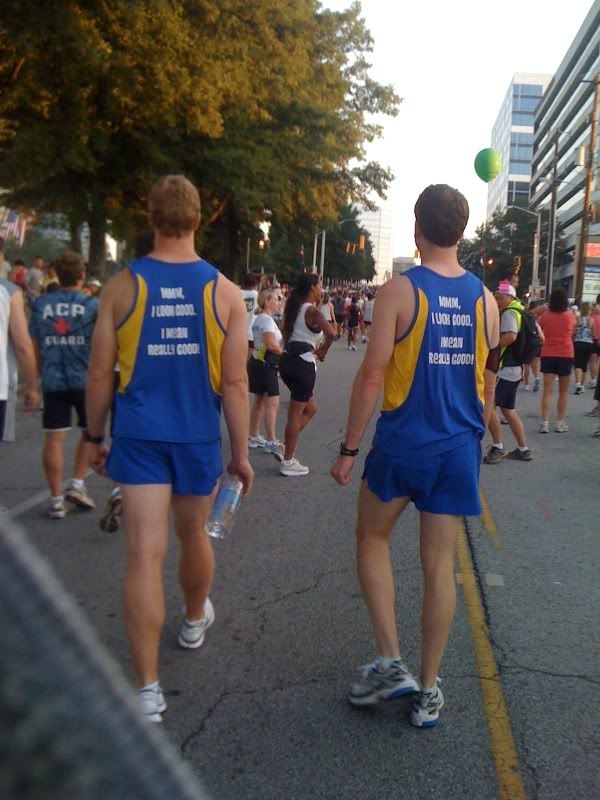 "Mmmh I look Good I mean Really Good"......okay *chuckle*
Here is my friend Giselle and I before the race looking...non-sweaty LOL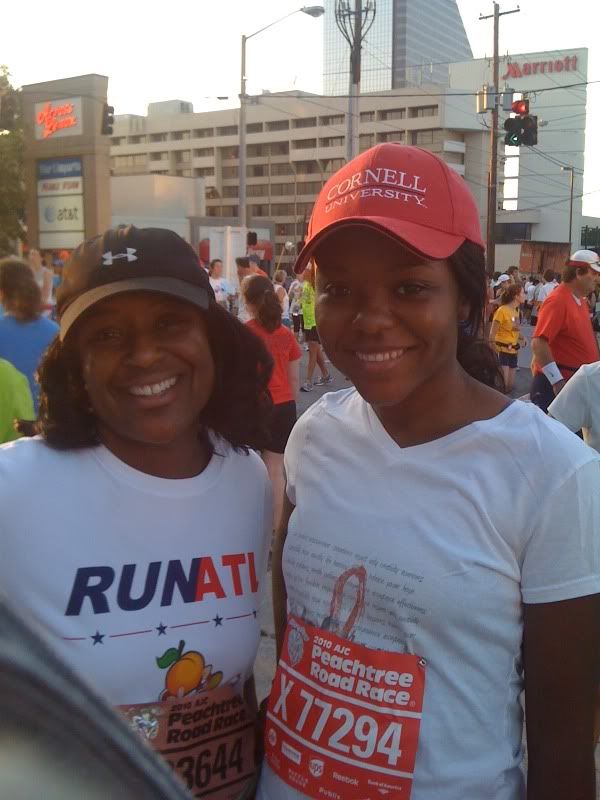 And of course I got a beautiful view right above me of the American flag...how patriotic (minus my finger haha)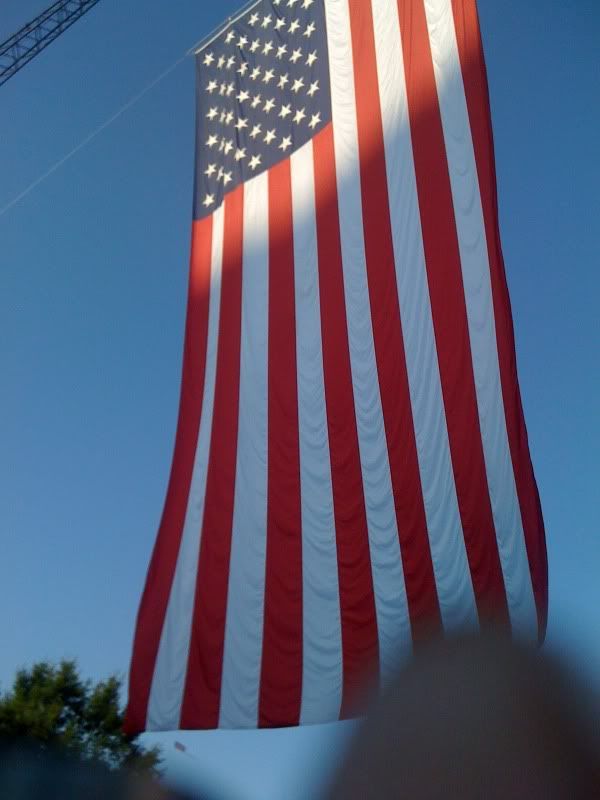 As I mentioned before there were running "waves" A-X and I was placed in "F" because I submitted my previous race times during registration (be sure you do that!). However, my friend did not and was placed in "X".
We tried to sneak her up into my wave and was successful until we had to advance to the start line by waves and "the race cops" caught her...poo. This meant she had to start an entire hour after me! No running buddy :o(
But with a race this large (over 50,952 finishers!!) you are never alone! :)
So my wave kicked off at 7:55AM - Yes! And everything after that is a BLUR! LOL
I will say I never had to turn on my headphones for music (that you are technically not supposed to have but lots of people were in violation then Haha), as the crowd participation was GREAT!
And there were BANDS at every mile!! So got to experience my own "Rock & Roll" race far cheaper ;op
I ran under EVERY sprinkler that they had set up! It TRULY kept me cool down while running this race. Sooooo grateful for them.
There were plenty of water stations lined up on both sides (that I never used - y'all know how I do haha) and lots of PortaJohns - that I was trying not to use Haha! (close to it but thankful I didn't have to stop like during the RaceFest 10K)
All kinds of things were being handed to you if you wanted the items. I took the ice pops to hold in my hands to keep cool and then eventually ate one ;op
I saw the priest that throws holy water on you during the race and gladly got dosed!
I didn't see any Krispy Kreme :o(
Towards the end there was a band playing "Born in the USA" and talk about perfect timing/how appropriate!

The Course: Is not one I would recommend for someone doing their first 10K. It is a bit challenging and Atlanta is just as hilly as Charlotte.
I had braced myself for the notorious "cardiac hill" that was between mile marker 3-4 by the hospital. So I knew when/what to look out for it.
So I see the hill among the mass of people and gear up for it (I had delayed taking my jelly belly beans until the first mile so I could be ready for the cardiac hill...should have taken right at the beginning of race though). I run up the entire hill and pat myself on the back that I didn't chock on it. Took a quick walk break to gear up for the next one and as I am running this one I noticed the hospital in my scenery....Oh Crap...THIS is the Cardiac Hill!!!!! And I see why b/c I just got done with the "pre-cardiac" hill that no one talks about which makes this one the cardiac hill!!! I got to the top and walked the rest of it out Haha!
I will say I had about 4-5 walk breaks..whew I was hot and tired. There is one last evil hill right before you hit mile marker 6 that no one talks about either....laaaaaawd I was done :) But got thru it too.
During the race, I happily made race buddies (you know I typically call them my race angels!) and we had so much fun giving each other challenges and playing 'tag' along the way. I will always remember them!! (see below pics to check them out)
Here is a view of the crowd in Piedmont Park...thousands of folks!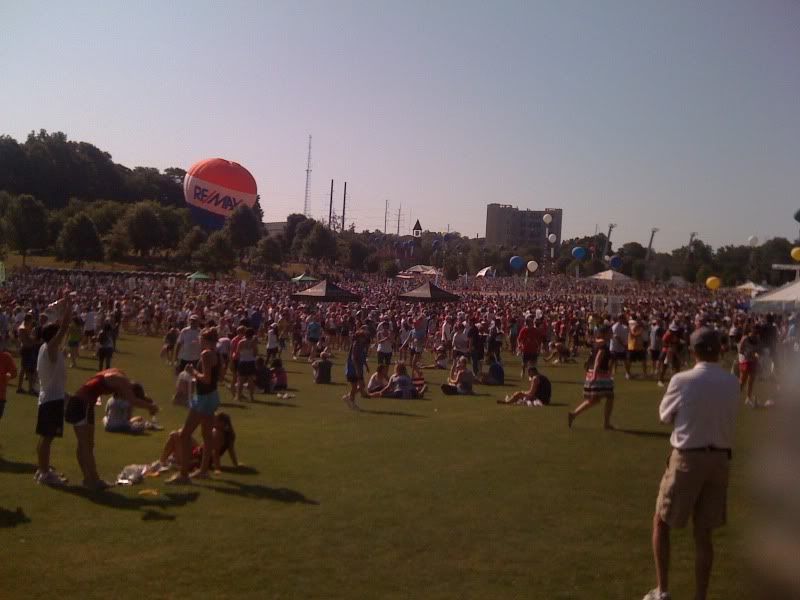 Well I didn't make my dream time goal of 60:00 though I tried towards the end when I realized how close I was with my interval lady chirping in my ear to say I was at 59:00 and almost at the end of the race route. That's when I really kicked it up some more!
I did make my realistic goal (less than my last 10K which was 1:08:23). My time:

YAYAYAYAY!!!!!! That is an average pace of 10:00

And here are my running angels Corey and Sean!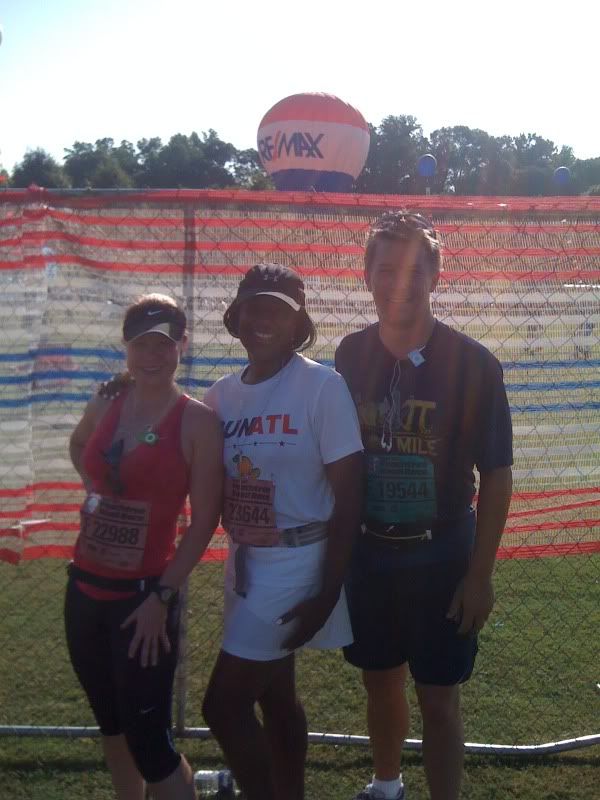 We realized we were a red, white and blue team!! :)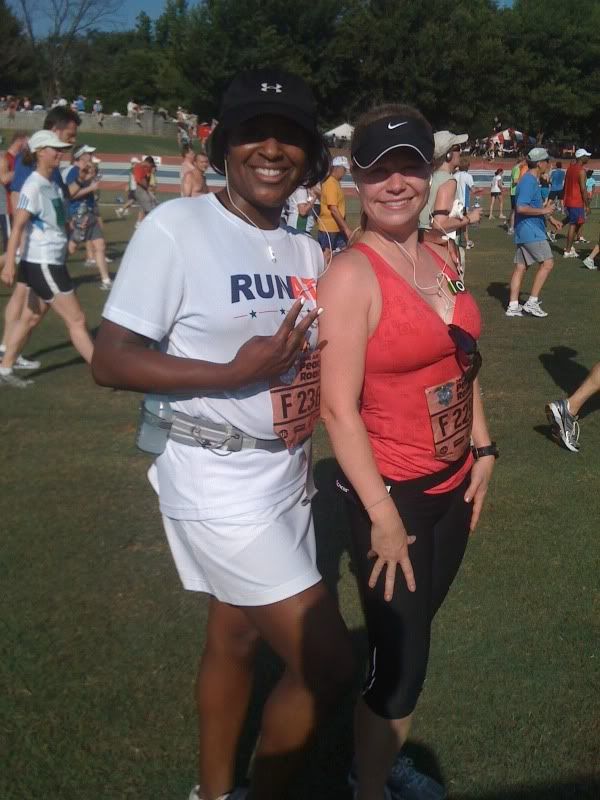 Corey was such an inspiration just being cleared to run the race after breaking her hip! And she has run in a race before with a broken foot so I knew I had to keep up with her LOL
She actually made me think my 60:00 goal would be possible because that was her target too and so we said lets go for it!
We had a good time at the race celebration getting all kinds of goodies but most importantly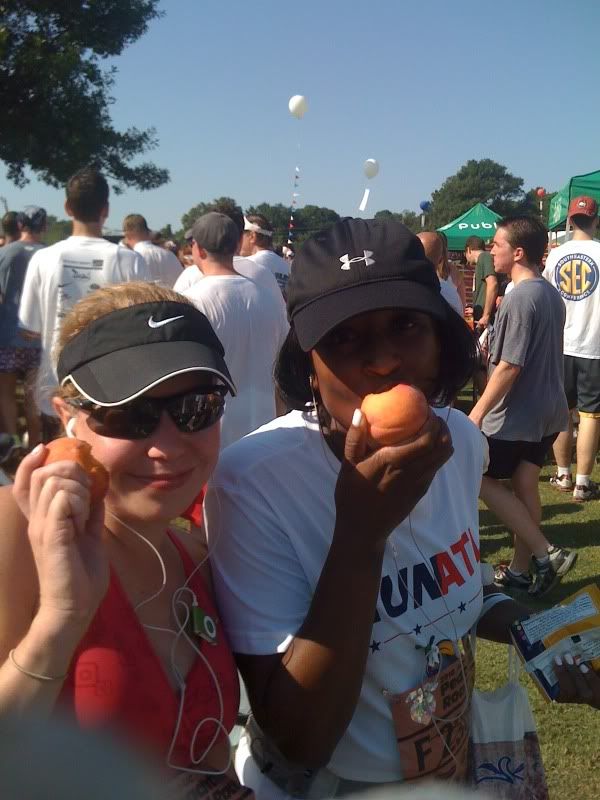 PEACHES at the Peachtree Road Race of course!! :)
My race buddies hung out with me until I meet up with my friend Giselle who finished in 57:40

She did a great job!

On our way out I couldn't pass up the photo opp in Piedmont Park with the Atlanta skyline behind me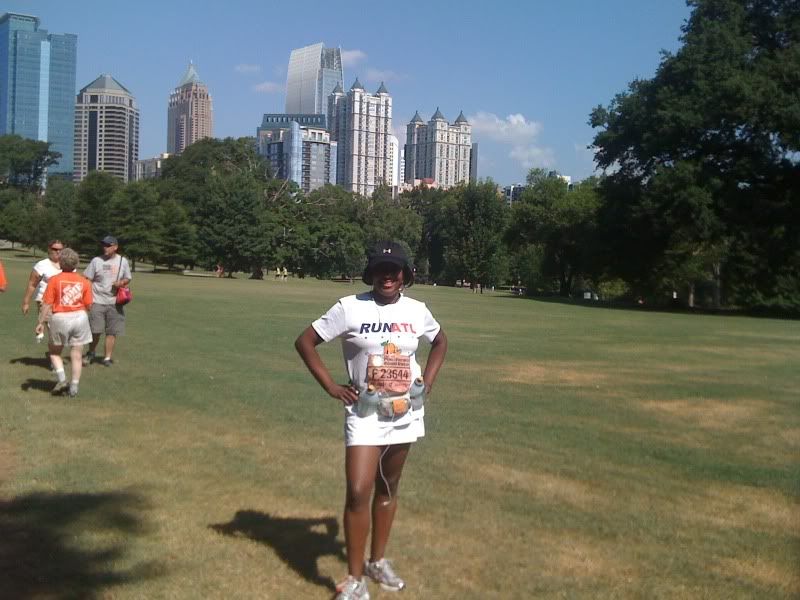 It was truly a wonderful and peachy race!! :)