I DID IT!!
Ran 26.2 miles!!
For the 1st time ever!!
You know...I never really thought from the moment I made my first attempt at running (barely 1 minute straight) just 14 months ago, that I would end this year with a FULL marathon (
Thunder Road
)....I never dreamed it would happen. But it did!!
My greatest accomplishment to date!!
Leading up to the week of the marathon I was featured in our local newspaper, The Charlotte Observer (blog excerpt
here
)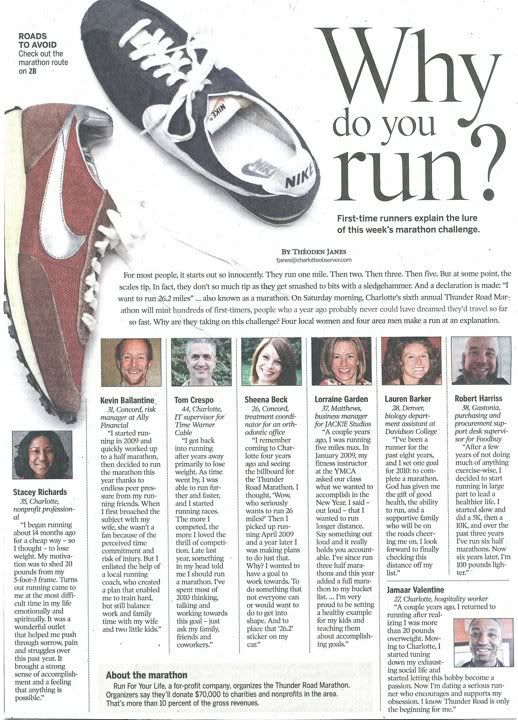 as one of the first time marathoners in this big race (over 10,000 participated in some capacity 5K, Half, or Full). What a great headliner and fantastic incentive to not chicken out right before the race! LOL It really built up the excitement of my 1st time and I felt like a kid waiting on Xmas!!
Well the big day came and our race began at 7:45AM. I am really not the type (as my regular blog readers already know) to give out mile marker splits especially for a race. But I will give you some highlights that I recall:
Mile 0: Digested a stage 1 PowerBar and took 4 Advils and 4 Pepto-bismols (be gone runner's trot!).
Mile 3ish: Getting in the groove now and making sure not to get too froggy with my pace
Mile 6ish: Squatted behind a bush somewhere for the 1st pee break. Took a PowerBar Gel #1
Mile 9ish: Saw race road kill!! (a guy cramped up in the middle of the street in severe pain..we had to look away)
Mile 12ish: Feeling good! Took PowerBar Gel #2 (not sure at what mile this pic was taken but I was smiling...good sign)
(CWX tights lover for life!)

Mile 14ish: Took 4 more advils and dashed to a PortaJohn
Mile 16ish: Thinking "I got 10 more miles...really??" Began repeating & meditating on Philippians 4:13
Mile 18ish: Digging deep and growing really weary this is when I started to feverishly repeat out loud now Philippians 4:13 - the only thing that would come to my mind to stay focused!!
Mile 20ish: Weary, took PowerBar Gel #3...my honey met up with me to run the last 6 miles!! YAY!!
Mile 20.1: Got lazy since BF showed up (my personal race angel) and started walking..oh boy. We both were repeating Philippians 4:13 together.
Mile 23ish: Stopped for the block party in NoDa!! Hell I deserved a break! They had this up there:
(How freakin funny!)

In this neighborhood they also had a table full of oranges and bananas along with race flags. I devoured the oranges as I was so over my gels at that point (even though I downed my last PowerGel #4 for good measure to finish off the race).
Mile 24-25ish: A lot of dayum walking
Mile 25.2ish: I can't freakin' believe I gotta pee!!!! Last portajohn stop...finger gestures occur and stares that could kill :-/
Mile 26.1ish: Panic that I won't make it under 5 hours and beast it out
THE END
And then....Relief
Sense of being victorious!! Topped off with some nice heavy hardware :)
Along with the feeling of my legs being insanely sore & stiff = please cut them off...n.o.w.! (even after all of that advil too!)
Other Notes: I ran this race with my training group. I can't not say this enough..group support is SO very important and I could not have done it without them....especially the first 20 miles!
Every 2 miles there were waterstops and so I did speedwalk breaks while drinking. I made sure to hydrate at every stop!
And I ate these PowerBar snacks along the course of the race to stay fueled
I never ate the Clif blocks the race offered during the higher miles as I never tested them during my training, and was happy I brought plenty of my personal snacks for the marathon.
I never truly "hit a wall" per say (that was during my 20 miler training run - both mental & phyiscal), but the training definitely prepared me!!
Because I ran a half marathon a month prior (my 1st one) I got this 39.3 commemorative medal:
(13.1 +26.2 Yaaaay Baby!)
The Thunder Road Marathon is known to be a hilly and challenging course (flat is for sissies!), along with the fact it is one of the last races of the year that is a Boston qualifier (not in my cards) so I must say I was proud to squeak out 4:59:35 for my very 1st marathon!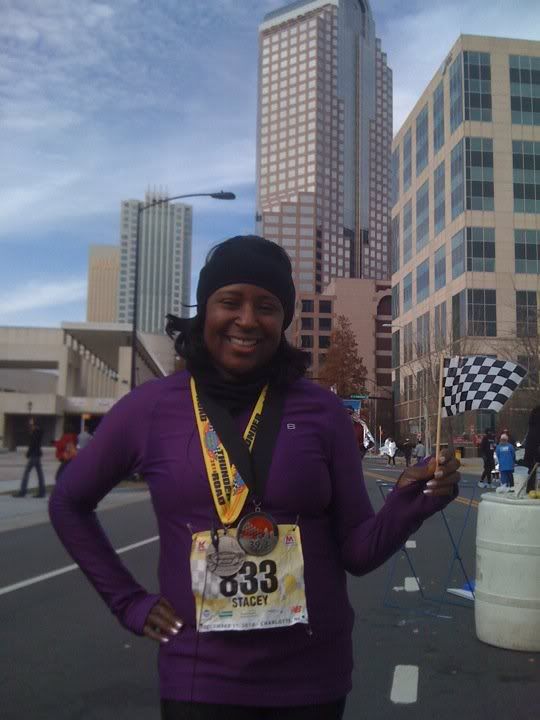 I AM a Marathoner!!!
I can do ALL things through Christ who strengthens me ~ Philippians 4:13