Hey my fellow runners!
I know a couple of you wondered how my race went last Saturday and I am very sorry it has taken me this long to update (busy bee).
But I have floated down from my Cloud 9 :) The Thin Mint 5K race went very well! I luv'd it!!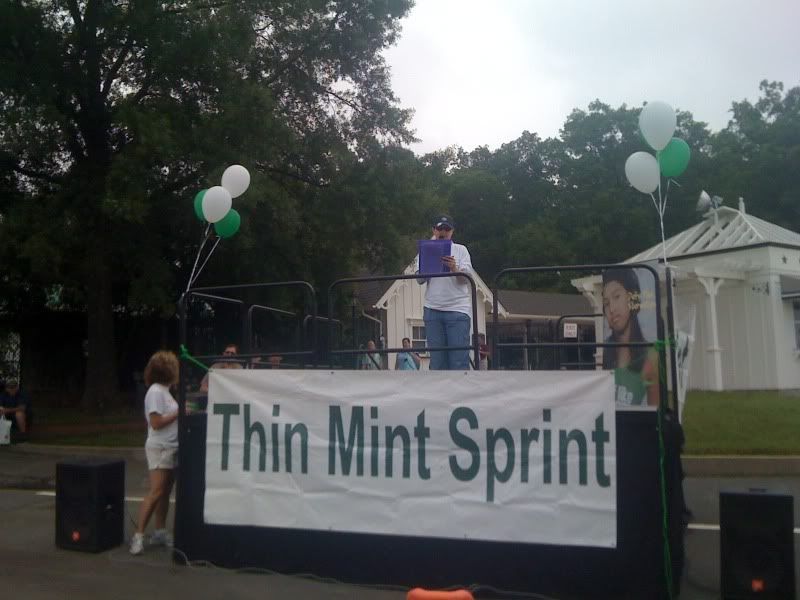 It was a very small race....just shy of 200 racers of all ages (6-64) and only had one vendor (Earth Fare - nice) there, but despite them not having a whole lot of pomp and circumstance it was a great race for the best bang for my buck (only $20 to register) and we got these cute eco friendly cloth bags with our t-shirts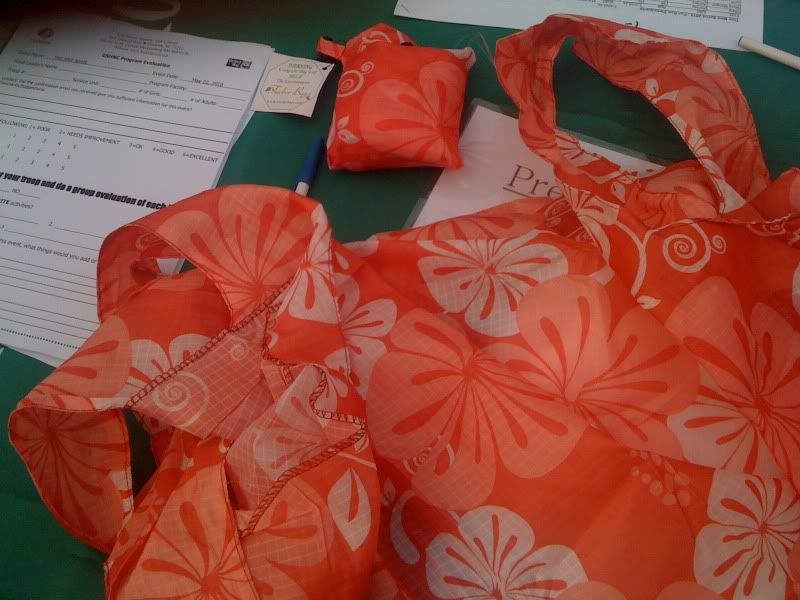 Not to mention the best part....stomping around Carowinds Amusement park for our course!! Score!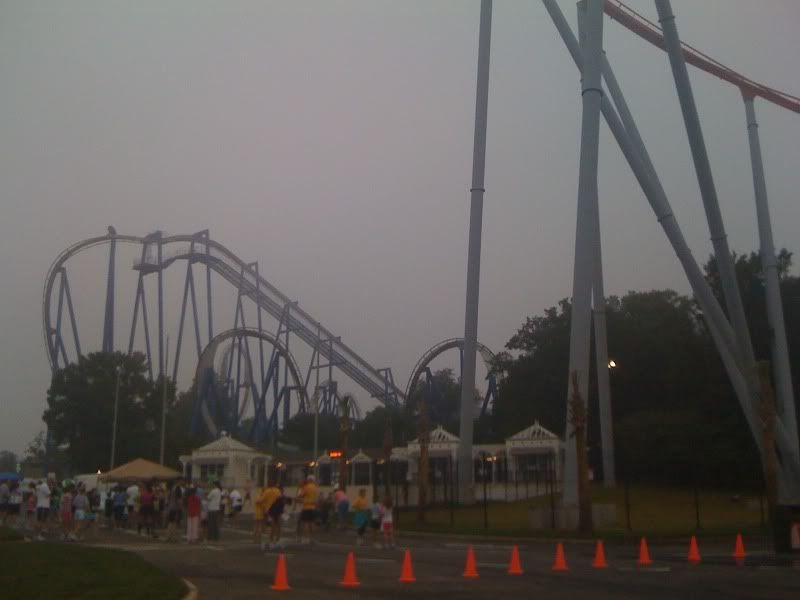 As you can see it was a very gloomy morning, and in fact stormed so bad the night before I was concerned it was going to rain during the race (*silent prayers were answered* Yay!). I'll take the gloom over the rain!
This race started earlier than most at 7:15AM so I wasn't used to that but it was very easy to access and a breeze to check in for our bib & timers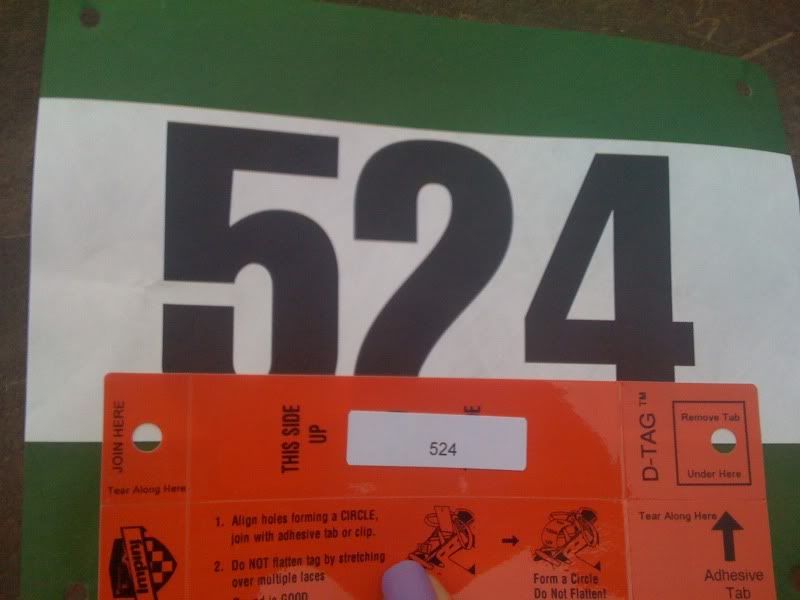 You see that right there! LUVs a D-tag!! Woot! Woot! (Did I mention this was only a $20 race!)
I was greeted by my own personal cheerleader this time Loree with PRBC! She came out to support and another running buddy from the club Tasha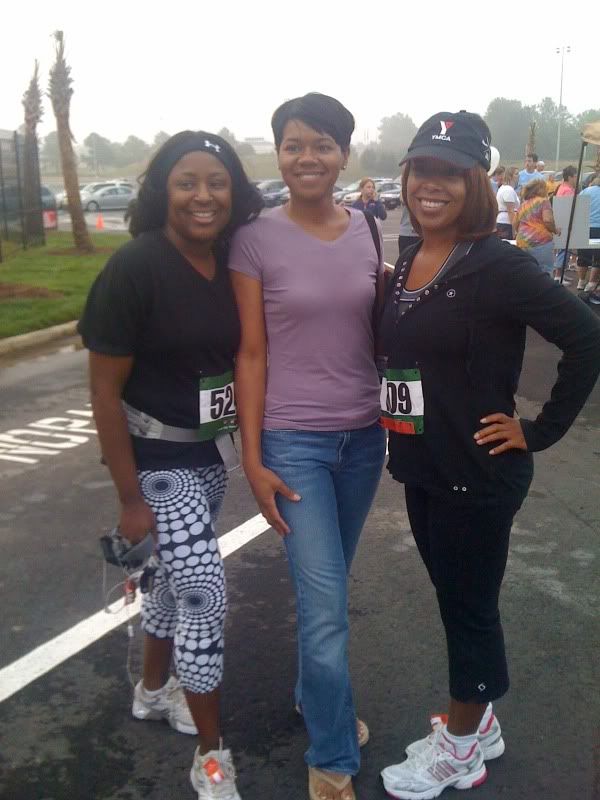 I also saw my line sister Debbie who co-founded the Ebony Eagles running club with her daughter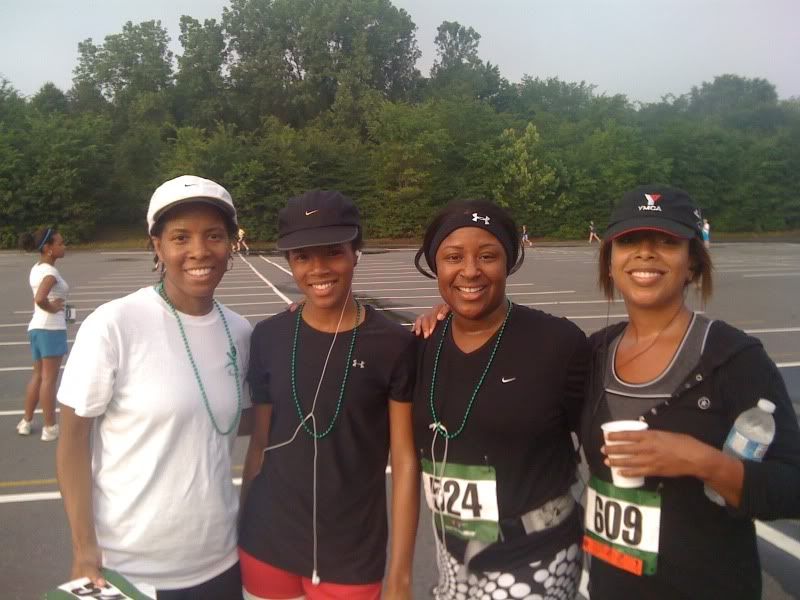 (post race pic)
On your Mark, get Set, GO!!
And we were off able to romp around the amusement park ground as fast as our legs would let us :) It was not that hilly maybe two spots, but I quickly realized that I should have got in front of the pack as I was trying not to push little girls out the way ;op LOL
So I had to remember this is "their" (the actual girls IN Girl Scouts) event and not try and hurt someone Haha!
But I was focusing on trying to make time! Dangnabbit!!!
I liked the small crowd for this race, but I will say it was a bit too small as when you were racing on the course there were times you felt like you were by yourself.
Of course another running angel (and a half) joined me on this race too! As you make it thru the first loop....yep you read that right! We had to do the course TWICE for the complete 3.1 miles (that sucked! - the only part I didn't like) and they gave you the green beads (see pic above) when you did the first lap (which I almost wanted to smash on the ground since I had to do the lap again but decided that it is supposed to make me happy so I took them ;op). Can you tell I was not happy about that second loop Haha!
So after the first loop I walked a "smidgen" and this guy who I had been seeing for most of the way yells to me "Come on! You're my pace!" :) I was like 'yeah yeah yeah'. Aafter I made it up the small hill for the 2nd time (ugh!), I quickly decided he was right and that I should keep moving so I can make my 30:00 goal. And as soon as I started running again he started walking...I grabbed him by the elbow (literally) and said "Nope you are my pace!!" :) He just started laughing. So we kept going and when he stopped at the water station I pressed on (y'all already know how I feel about those). I did walk once more just for a quick minute towards the end but realized how close I was so decided to suck it up! ;op
As I kept running the 2nd loop (Dangnabbit!!) I saw this cute little gurl just sprinting and then walk all exhausted...she would then sprint off again and then walk *repeat* Haha! But she was all by herself running so I said to her "Keep on running" when she was walking and she would sprint off again! *repeat*
How about after we completed the race I thanked her for being my running buddy (and coincidentally she did Girls on the Run too where I volunteered at earlier this month)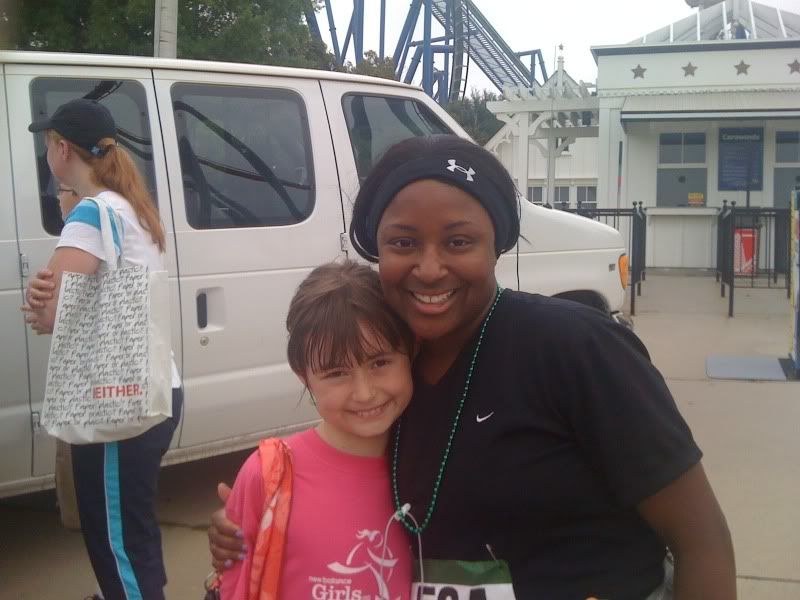 But she did the sweetest thing and said to ME "You did a great job!"....WOW! Gotta love the kids. Thanks Amy!!
So the last stretch of the course is in the parking lot on nothing but 100% flat as a pancake pavement.....and you just want to get it over with...especially after the 2nd round....Dangnabbit!!!
And I was exhausted....but then I saw my cheerleader Loree!! I turned off my music so I could hear her cheering me on and knowing my goal I heard her say "You'll make it under 30:00"....WHAT?!?!? Did I hear her right?!? Let me go find out! Haha!
And I did!!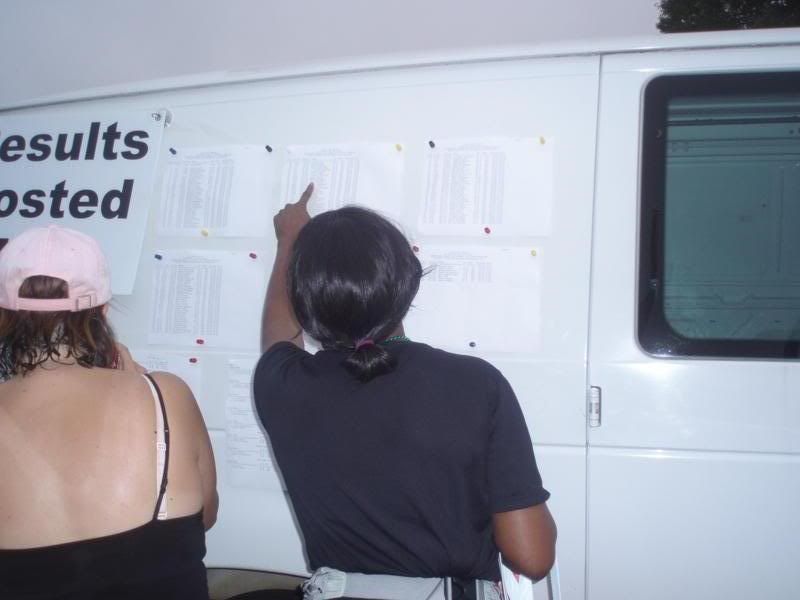 27:52!!! I PR'd!!!!!!!!! (race results)
And then the most craziest thing ever.....I also placed 1st in my age group!! Haha!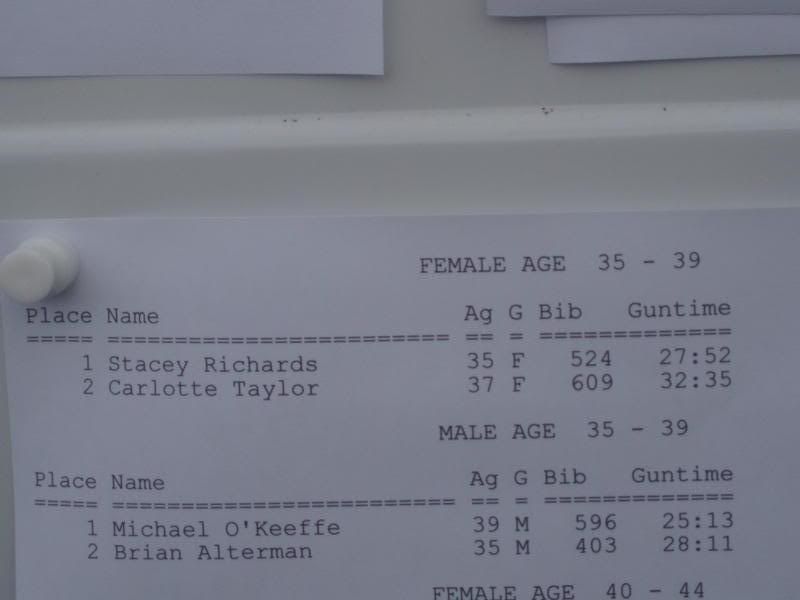 It's crazy because I never thought I would ever do that......ever!! Gotta love a small competitive race...I'll take it! :)
If you place then they give you a box of thin mint cookies!!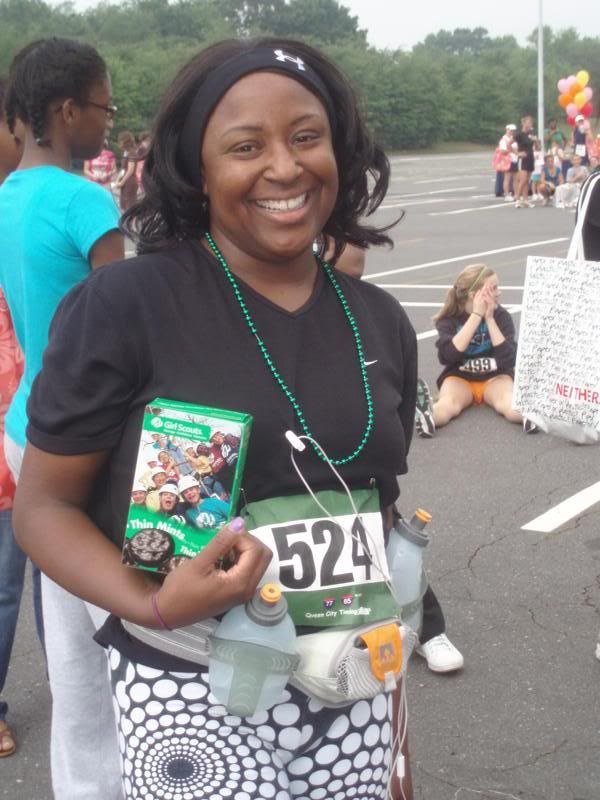 Oh you betcha I
Definitely will do this race next year!!! :) Luv'd it!