...in a little bit of everything!
Since my last post (now updated) I notated incorrectly my race time for the
HopeBuilders 5K
and actually did it in 26:39 (chip time), as well as placed 3rd in my age division! Wowzaa!! :)
Have y'all heard about
Athlinks.com
? It is another social networking site but for runners/athletes. Kinda cool to keep track of your races over there, especially if you don't blog and see other runners stats/info. Check out the site!
Well before the morning temps dropped this is how my legs used to look during my LRs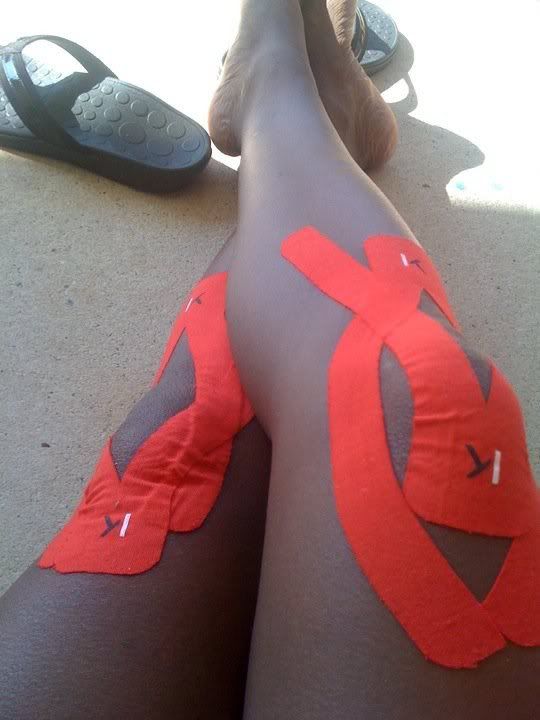 This stuff really has been my cheap way of prolonging my big CWX support tights, as that would be a major purchase for me ;op My girl Ashley with BGR is hooked onto the tape now too! Check out her blog post HERE.
A few weeks ago I came across this cute shirt in M.arshalls (it actually is a really vibrant/deep purple)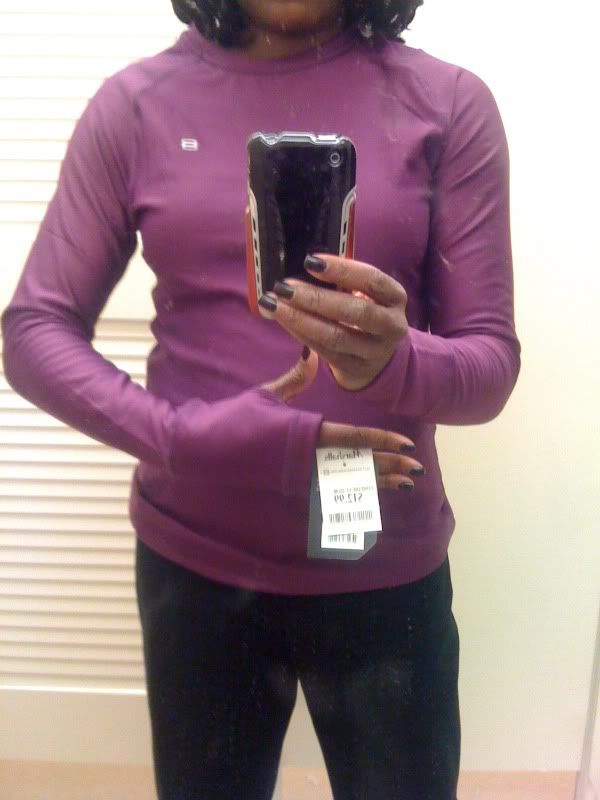 For only $12.99!!!!! A thermal, fingerless mitt dri-fit shirt!! A freak-in steal!!!!
Yes!! All of that for the low low price of $12.99....how about I have three of them now Haha! They are super comfy and definitely do the job!!
Shoot what I would have paid retail price for one I ended up with three!


On running...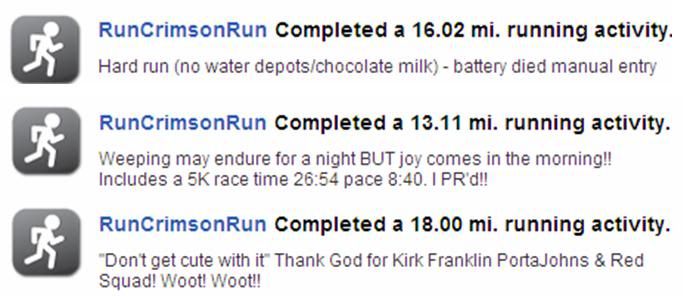 That about sums it up LOL
My sweet 16 mile was a rough one and I was sore but nothing out of the ordinary. The last two miles I was very grouchy and did not want anyone talking to me LOL
Now my first 18 miler I was SUPER sore (and worn out) the day of but was fine afterwards. Truly my iPod gospel play list saved me at the end (I don't run with music now *gasp*). But Runner's Trot has kicked back in because of the longer mileage and is concerning me again...sigh.
I did miss my initial scheduled 18 mile run to do the HopeBuilder 5K so I compromised and ran 7 miles prior, 3 miles for the 5K, and then 3 miles afterwards to get in at least 13 miles/half marathon.
However, this past Saturday I did get in another 18 miler and was just as exhausted the last two miles again.
In fact, my runs lately have been down right sluggish for a few reasons:
Bad eating
No cross-training
Lack of sleep
No Bueno for someone this close to the end of her long & hard training...simply put I am burned out.
Le sigh
I need to get in my Karate Kid mind zone ASAP!
So I have been watching lots of marathon movies lately :)
These two are great:
Spirit of the Marathon & Marathon Challenge
And these books I mentioned way back in August have been keeping the fire from completely extinguishing.

So as my 1st Half Marathon (Dowd Y) approaches me THIS Saturday *gulp* and my 1st Full Marathon (ThunderRoad) in a little over a month away *faint*; I am SO ready for my training to be OVA!!! :)